Landscape Retaining Walls
Help ground stand its ground. From a residential landscape to the most extreme land development projects, we offer a number of unique solutions to help you fortify infrastructure, securing soil and grade change reinforcement.
Landscape retaining walls often include landscaping such as plantings, flowers or other material to add to the look of the wall. The additional landscaping can be tiered to break up the look of the wall and soften the appearance. Landscaped retaining walls can be used to address water erosion problems in addition to adding beauty to a landscape and are available in a variety of materials including pre-formed blocks.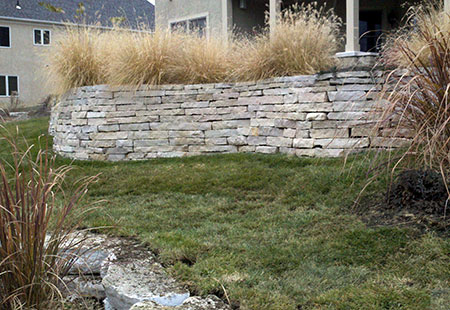 Block walls provide the most formal look in a retaining wall. They are useful for front gardens, creating grade changes, and can be engineered to hold back a large amount of hill. The lack of gaps between the blocks minimizes wash through and rodents.
Granite boulders are usually rounder, and come in an array of color tones including gray, cream, red and blue. These walls provide a location for landscaping with trailing plants, which can further soften the wall's appearance.
Limestone walls are a great way to give a more formal appearance without using a pre-made concrete product. Seating walls can be incorporated into almost any landscape idea. They can be placed around a patio, along the bottom of a grade, or provide a planting area around a tree.