Yard Grading Services
Whether your property needs consist of routine residential landscape maintenance or customized management of exterior commercial landscape projects in the Columbus area, you can rely on Wilson's Lawn & Landscape to provide these services in a professional and efficient manner.
When it's time to spread fresh mulch in the spring, constructing or maintaining block retaining walls, or completely renovating a landscape, Wilson's has the equipment, expertise, and manpower necessary to handle the task. No matter the size or complexity of the job, we're committed to excellence and guarantee the greatest return on your landscape and grading services investment. Our core tenets are based on integrity, efficiency, quality, reliability, and value-added services.
Our Grading services include but are not limited to the following:
Yard Renovation & Maintenance

Topsoil Installation Services

Grading Services

Land Grading and Leveling

Grading Yard away from House

Excavating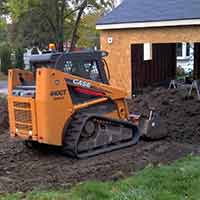 Dose your backyard need leveling? Call the Grading Contractors at Wilson's Lawn Care.